Jasmy Coin price descending triangle points to more downside
Jasmy coin price has moved sideways in the past few days even as other cryptocurrencies have bounded back. The coin was trading at $0.0035 on Tuesday, where it has been in the past few months. This price is a few points above this month's low of $0.0030.
Federal Reserve decision ahead
Jasmy Coin is a small but highly popular cryptocurrency that is best known for its Japanese roots. Started by former Sony executives, the coin is regarded as Japan's version of Bitcoin.
But unlike BTC, Jasmy has a deeper role in the blockchain industry. According to the developers, the platform is used in the data privacy industry. It is also used in the Internet of Things (IoT) industry.
Jasmy's goal is to ensure that people can store and secure their data in a safe and secure manner. It is also used to safely and securely manage and control devices. Most importantly, Jasmy helps companies to secure their data.
Jasmy coin tends to track the price of Bitcoin. As such, the key important event to watch this week will be the upcoming interest rate decision by the Federal Reserve. Most economists believe that the Fed will leave interest rates unchanged at 0.25%, as I wrote here. 
The bank will also have a hawkish tone since the country's inflation remains at an elevated level. Data released by the Bureau of Labor Statistics (BLS) revealed that the headline consumer inflation rose to 3.7% in September. A hawkish Fed will likely lead to more downside for Jasmy and other cryptocurrencies.
Jasmy Coin price prediction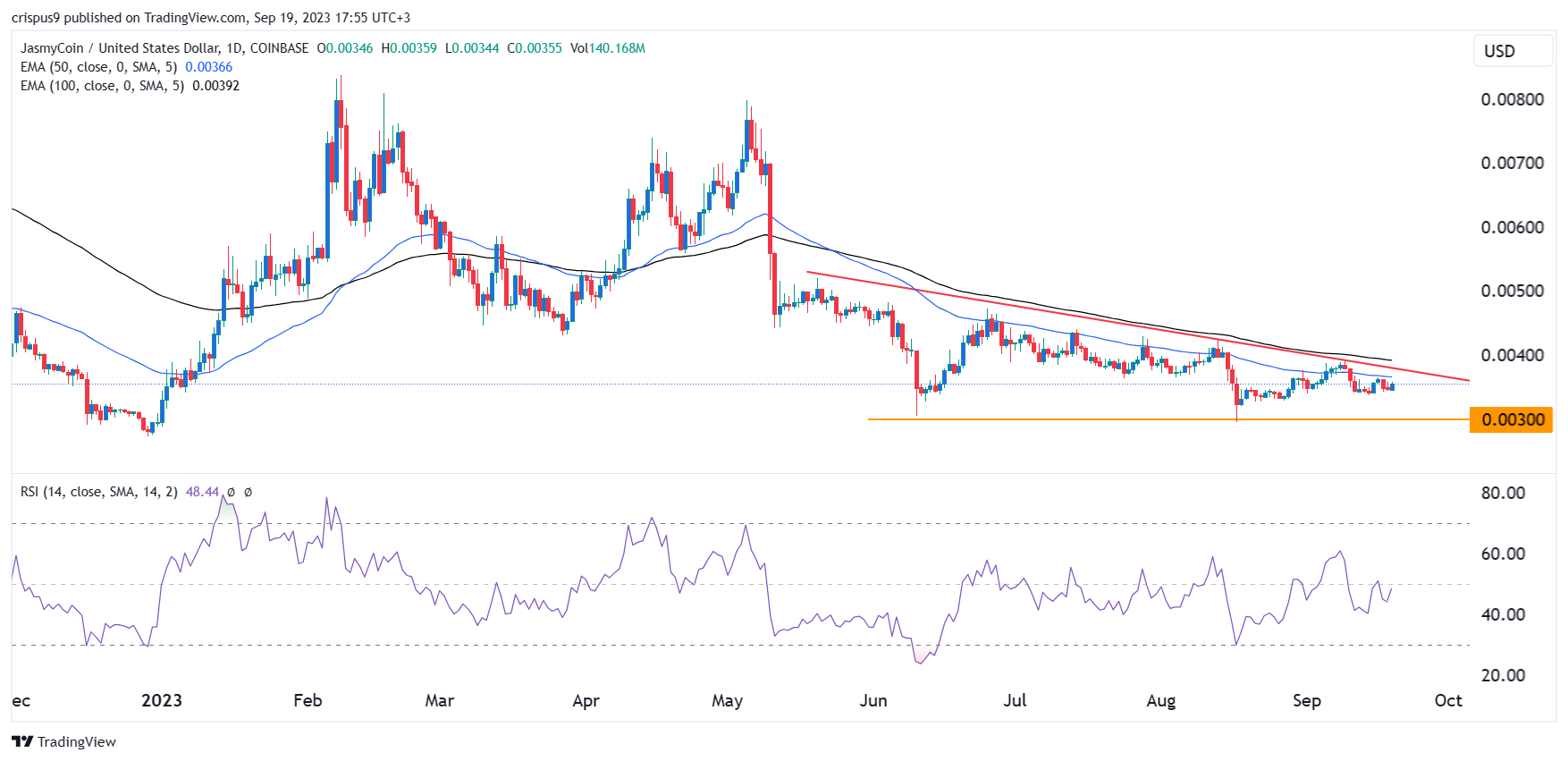 The daily chart shows that the Jasmy token has been in a bearish trend in the past few months. The coin has formed a descending trendline shown in orange. This line connects the highest swings since May this year. 
Most importantly, Jasmy has formed a descending triangle pattern. In price action analysis, this pattern is one of the most popular bearish signs. It has also dropped below the 50-day and 25-day moving averages.
Therefore, Jasmy price will likely have a bearish breakout as sellers target the key support at $0.0030. A break below that support will likely lead to more sell-offs as sellers target the key support at $0.0025.
How to buy Jasmy
Coinbase
Coinbase is one of the first places that made it easy to buy bitcoin and has since become a widely trusted exchange in the market.
Bitfinex
Bitfinex is a bitcoin exchange platform that provides advanced services for digital currency traders and liquidity providers.